Latest News
VELOGAMES FANTASY WOMENS CLASSICS 2021 HAS BEGUN!
Velogames Fantasy Womens Classics returns is on the road! The opening race deadline of 14:00 CEST on Sunday 4th April has now passed. Check the link below to follow progress in the competition as the 13-race season progresses.
Visit Velogames Fantasy Womens Classics 2021
All contests
An old favourite returns! The Fantasy Spring Classics campaign contains the time-honoured format featuring 12-rider squads with 24 transfers to use up across the 12-race series. As in previous seasons (apart from the disrupted 2020 campaign), the contest will run from Milano-Sanremo on Saturday 20th March until Liege-Bastogne-Liege in late April.
Go to Fantasy Spring Classics 2021
An expanded Superclasico season for 2021! This "prediction plus" campaign features a race calendar of 35 of the largest one-day races of the year, running from Strade Bianche on Saturday 6th March all the way through until Paris-Tours in deep Autumn. Select a team of six riders for each race, with unlimited rider changes between each event.
Go to Velogames Superclasico 2021
The Velogames Stage Race Championship features all major World Tour stage races that take place during the season. Make sure to be ready to select your team ahead of the opening contest - Velogames Fantasy Paris-Nice 2021 - which will begin on Sunday 7th March.
Go to Stage Race Championship schedule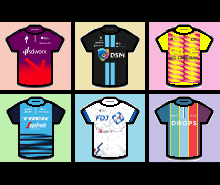 This season sees an expansion of the Fantasy Women's Cycling Season, with contests now covering both the one-day classics and an increased number of WWT stage races. This series will commenced Ronde van Vlaanderen on Sunday 4th April.
Go to Fantasy Women's Classics 2021